Some of you may already be familiar with "Jack Chick tracts", or "Chick tracts", or the name "Jack T. Chick".  Others may already know what I'm talking about, even if you didn't know the name off-hand.

Chick tracts are these little black and white comic books that born-again Christians use for witnessing.  That's a euphemism for "proselytizing".  You may have had some streat preacher hand you one, or found them in your mailbox, or what not.  They're created by a cartoonist named Jack T. Chick.  And no matter what topic you can think of that has ever upset Jesus freaks, you can find some Chick tract about it: sex, evolution, Islam, dungeons & dragons, Catholicism, homosexuality, rock music -- you name it.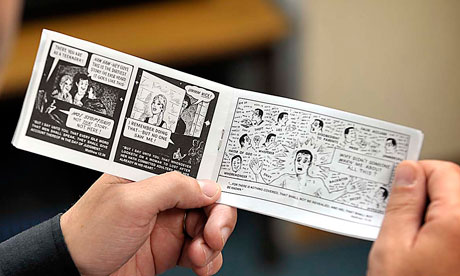 Ironically, the biggest "fans" of Chick tracts tend to be atheists, Pagans, and other non-Christians who just find them to be an entertaining collection of bad art work and fallacious arguments.  I knew one atheist who had a stack of about 50 of them on his living room table.

I've run into a number of Chick-related links over the years, so I thought I'd put them all here in one place:
And now for the parodies!